HOME
RECIPES
STORIES
PASTA PRODUCTS
Back to Stories
Here's How You Can Cook a Perfectly Al Dente Pasta Every Time
The texture of pasta can make or break a dish – here's how to achieve al dente pasta perfectly every time.
A delicious sauce and well-cooked pasta make for a great pasta dish. But all of us have probably experienced cooking pasta that was either too mushy or too undercooked. Most pasta recipes call for "al dente," which means "to the tooth" in Italian. This is the ideal texture of cooked pasta wherein it is softer outside but still firm to the bite inside. Luckily, it's not that hard to achieve a perfectly al dente pasta.
First, you need to choose your pasta. Of course, you'll have to make sure that you're using the right pasta for the kind of dish you're preparing. You might also want to choose a brand that uses high-quality flour and durum semolina, such as the El Real Spaghetti, to ensure that the noodles are firm.
Next, you'll need a pot that's deep enough to allow the pasta to boil freely, and has enough space so that the noodles don't stick and clump together. Typically, you'll need about 5L of water for 400g of pasta. You can cover the pot to lock in heat and boil the water faster. Before adding anything, make sure that the water is already boiling. If you add the pasta too soon, it might get mushy and clump together because it takes longer to fully cook.
Once the water is boiling, add two tablespoons of salt. Adding salt to unboiled water increases its boiling point temperature, resulting in an unnecessarily longer time to boil. Salt is essential in cooking pasta as it provides flavor and adds depth to the overall dish. Don't worry if two tablespoons seem too much—most of it stays in the water and gets drained off.
Tip: Don't reach for that bottle of oil. Contrary to popular belief, oil doesn't do anything except coat the pasta and prevent the sauce from sticking to it. You might want to add oil to prevent the pasta from sticking—but actually, if you cook the pasta correctly, it won't end up clumping. However, if you're preparing pasta ahead of time and plan on storing it in the refrigerator, you can toss it with a bit of olive oil, once the pasta is drained, to keep it from turning into a sticky block of noodles.
Once the salt is dissolved and the water is at a fast boil, add the pasta and stir continuously to keep the noodles apart and prevent them from sticking to the pot. Make sure that you also check the packaging instructions of the pasta you're using to find out the ideal duration a certain pasta should be boiled. Set a timer three minutes before the indicated cooking time. Only start timing when the water starts boiling again.
Here comes the crucial part: Once the alarm goes off, take a piece of pasta, take a bite (you can quickly run it under water so you don't burn your mouth), then chew. Do this every succeeding 30 seconds. If it's too hard and still has a white line or dot in the center, it's not done yet. Only when the pasta is translucent in the center and has a chewy and slightly resistant mouthfeel does it achieve the "al dente" form.
To end the cooking process, remove the pot from the stove and immediately pour a cup of cold water inside. If you're adding in the sauce after, drain the pasta into a colander until only a bit of water is left. Tip: You can also set aside a cup of the pasta water and use it to adjust consistency of the sauce you're using.
Lastly, mix the pasta with the sauce, serve, and enjoy your perfectly al dente pasta dish.
El Real pasta offers a wide range of high-quality pasta that will fit your needs. For the health-conscious folks, there's also El Real Healthy Spaghetti which is made with real malunggay and carrot bits, is rich in Vitamins A, C and Calcium, and has zero grams cholesterol.
---
You might also like these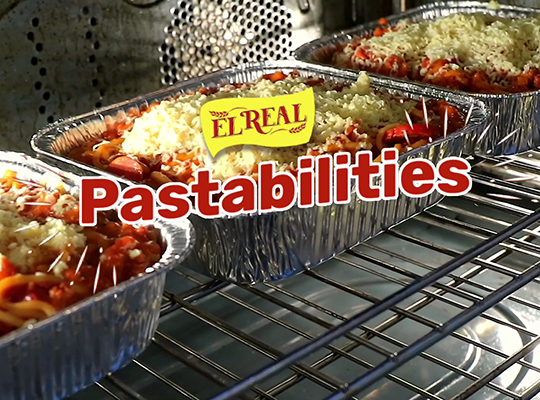 PASTABILITIES – INGRID
May iba't ibang Pastabilities sa bawat kwentong El Real! Samahan niyo kaming matakam sa special recipe at ma-inspire ni cool and kwelang si Mommy Ingrid Bonnevie! FLEX at SHARE niyo na rin sa comments ang picture at tawag niyo sa sarling Pasta Recipe na lalong nagpa-espesyal sa family moments ninyo!
Learn more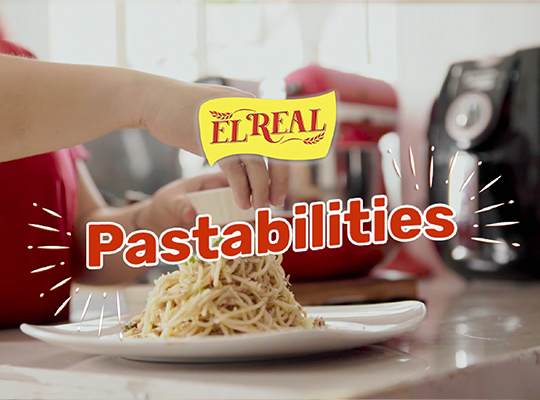 PASTABILITIES – NATZ
Gaya ni supermom at online food business owner na si Mommy Natz, maraming pastabilities ang malalagpasan kasama ang El Real. Panoorin na ang bagong kwentong El Real para lalo tayong ma-inspire! Pwede pa kayong mag-FLEX at SHARE ng sarili niyong recipe na hinahanap-hanap ng pamilya! I-comment na rito ang picture at tawag niyo sa espesyal na pasta dish
Learn more