HOME
RECIPES
STORIES
PASTA PRODUCTS
Pesto and Parmesan Macaroni
Try some pasta so tasty and fresh, it makes us glad it's not a salad. Just add pesto — and presto! May fragrant Pesto and Parmesan Macaroni ka na just like that!
Preparation and cooking time:
less than 25 minutes
Budget:
PHP 300+
Ingredients
---
400g El Real Elbow Macaroni
½ pc lemon (peel lightly grated for zest, then juiced)
½ cup cherry tomatoes, cut in halves
Directions
---
Step 1: Lutuin ang El Real Elbow Macaroni according to package instructions. Drain and set aside.
Step 2: In a bowl, paghaluin ang pesto, mayonnaise, sour cream, lemon juice, and lemon zest. Season with salt, pepper, and sugar, then mix.
Step 3: Toss in cooked El Real pasta at fresh cherry tomatoes. Top with chili flakes and parmesan cheese.
Made with
---
You might also like these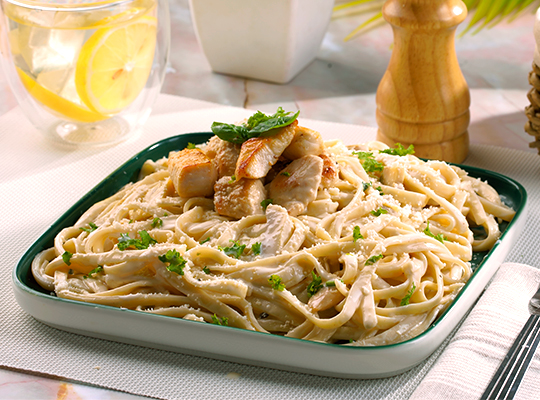 Chicken Alfredo
Walang tatalo sa simple pero siguradong winner. Serve a Classic Chicken Alfredo kasama ang El Real Spaghetti.
View recipe
Pinoy Rumble Sopas
Need to energize your day? Let's get ready to rumble with a Rumble Sopas!
View recipe